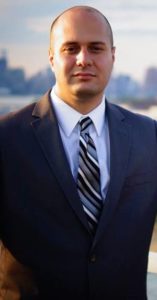 Mike Scala is a product of south Queens, where he was born and lived most his life, his parents having met on Rockaway Beach. He is an attorney with experience in both the private and public sectors, and a record of getting results.
He attended New York City public schools, then enrolled in the Polytechnic Institute of NYU, where he graduated cum laude with a Bachelor of Science in computer science. At Brooklyn Law School, Mike was elected to lead his class. He earned his Juris Doctor in 2012, launching a grassroots campaign for Congress his final year of study.
Mike's message of bringing an outsider's voice to government resonated with voters. He received the endorsement of The Wave newspaper, which called him "a young man with good ideas," and earned more votes than the incumbent Congressmember in Assembly districts covering the Rockaways, Broad Channel and Richmond Hill.
As a civil litigator, Mike has successfully argued cases throughout the New York court system. Clients of his practice include local homeowners for whom he has been able to provide legal relief. Prior to his admission to the New York state bar, he worked for the legal department of New York State United Teachers (NYSUT) and in health care with the non-profit National Hospice and Palliative Care Organization (NHPCO).
During the 201st New York State Legislature, Mike served as legal counsel and legislative director in the New York State Senate. His duties included drafting, managing and negotiating proposed laws. He maintained an office in Albany where he was responsible for 150 bills. Several of them, including an initiative to help veterans find work in the state, passed the Senate.
One such bill, requiring police reports of missing adults, was signed by Governor Cuomo on September 9, 2016, and has become Section 837-F-2 of the Executive Law.
In this capacity, Mike was also involved in the state budget process, which included a $12.94 million allocation for transportation improvements in Rockaway and $10.15 million for St. John's Episcopal Hospital.
Mike is the First Vice President of the Queens Public Transit Committee, which advocates for better transportation throughout the borough. The group supports restoring the Rockaway Beach Branch of the Long Island Rail Road as a new rail or subway line, which it has named the QueensRail. It has built a coalition of elected officials and community leaders to fight for the project that will reduce travel time to midtown Manhattan by up to 45 minutes. Due to their efforts, the MTA is now studying the cost and feasibility of implementation options.
He additionally co-chaired the Rockaway Ferry Committee with Laura Deckelman. This committee acted as the liasion between the community and the New York City Economic Development Corporation (NYCEDC) in advance of citywide ferry service.
Mike is a Howard Beach resident and a parishioner of St. Helen's Church.